Conservation Club of Brockport
"More than just a gun club. We are a social and family club, and have been for over 60 years."
Welcome to the Official Conservation Club Website
The Board of Directors welcome you to our official website. Our goal is to make the Conservation Club of Brockport one of the finest organizations of it's kind in the area.

Incorporated in January, 1956, The Conservation Club of Brockport is located on eighty-eight acres at 291 LaDue Road in beautiful Brockport, NY 14420.

The purposes for which this club is organized are to conserve, restore, and manage the game, fish, and other wildlife and it's habitat; to seek to procure improved hunting and fishing for landowners and sportsman. To promote interest in hunting, shooting, archery, fishing, and to encourage and educate it's members and the general public in the principles of safety. To encourage and provide social and friendly interaction among it's members.

We are more than just a "gun club". We are a social and family club, and we have been for over 60 years.
Website built by: The Conservation Club of Brockport
---
---
---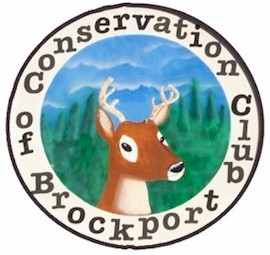 God Bless America
291 LaDue Road Brockport, New York 14420
Phone: 585.637.5961
Image courtesy of: www.freeimages.co.uk
---
2017 Membership Applications are now being accepted. Please fill out all line items on the application completely and legibly. (Especially e-mail
addresses). Illegible handwriting may delay your renewal. Membership applications are available at the club, and can also be downloaded from this site.

NEW: For new members there will be a $25.00 Initiation Fee in addition to the annual membership fee. This is a one-time only fee.

Thank You
The club would like to thank Gary Tviet for volunteering his time to wire up lights for the outdoor pavilion. We'd also like to thank the person that anonymously donated the money to purchase the lights for the pavilion. With the new lights, new cement floor, new grill grates and new picnic tables, the outdoor pavilion is a lot more inviting .
---
Monday Night Trap
Monday Night Trap is open every Monday. Even on holidays. Shooting starts at 5:30 pm, and runs until 9:00 pm. All members are welcome as well as the general public.
The cost is $3.50 per round for members, $4.00 per round for non-members and $2 per round for shooters under the age of 18.
Members can purchase 10-Shoot punch cards for $30.00 at any of the Club's General meetings. If you are interested, free trap shooting lessons are available for beginning shooters.

Another Thank You
Jagger Kachmaryk, an Eagle Scout, approached the board earlier this year and asked for a list of possible projects around the club that he could choose from for his Eagle Scout project. The handicap ramp improvement and the retaining wall were two of the projects the board came up with.
After receiving approval from the scouts, Jagger was responsible for planning the work, recruiting
help, acquiring all the supplies and completing the projects. He recruited some fellow scouts and his father, received minimal help from the club, but overall, Jagger got the job done! All that's left is for the club to purchase plants
and plant them. Miller Brick on Ridgeway Avenue donated all the bricks and materials for the retaining wall and the wall in front of the handicap ramp. If any members are planning a project requiring bricks or pavers, please keep Miller Brick in mind.