Conservation Club of Brockport
"More than just a gun club. We are a social and family club, and have been for over 60 years."
Welcome to the Official Conservation Club Website
The Board of Directors welcome you to our official website. Our goal is to make the Conservation Club of Brockport one of the finest organizations of it's kind in the area.

Incorporated in January, 1956, The Conservation Club of Brockport is located on eighty-eight acres at 291 LaDue Road in beautiful Brockport, NY 14420.

The purposes for which this club is organized are to conserve, restore, and manage the game, fish, and other wildlife and it's habitat; to seek to procure improved hunting and fishing for landowners and sportsman. To promote interest in hunting, shooting, archery, fishing, and to encourage and educate it's members and the general public in the principles of safety. To encourage and provide social and friendly interaction among it's members.

We are more than just a "gun club". We are a social and family club, and we have been for over 60 years.
Website built by: The Conservation Club of Brockport
---
---
---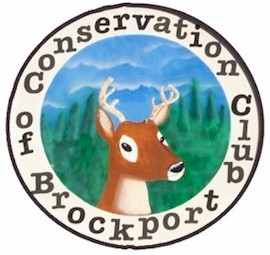 God Bless America
291 LaDue Road Brockport, New York 14420
Phone: 585.637.5961
---
2018 Membership
Applications are now being accepted. To ensure uninterrupted Range Privileges, your Membership Application must be post marked no later than January 31st 2018.
NOTE:
Regardless of whether or not any of your information has changed, when renewing your membership:

1. You must fill out a membership
application.

2. All line items on the application must be filled out completely and legibly. (Especially e-mail address)
Illegible handwriting may delay your renewal.

Membership applications are available at the club, and can also click here to download.

NOTE: For new members there will be a $25.00 Initiation Fee in addition to the annual membership fee. This is a one-time only fee.

Spring Raffle 2018 Update
As of Monday, 497 ticket stubs have been turned in. Not bad, but of the 880 tickets that were mailed to members, 380 are still out there, as well as additional tickets that were signed out at
the bar. If you haven't purchased a ticket yet, we ask that you support your club and purchase at least one ticket. Funds raised by our raffles help pay the bills and allow us to make repairs and improvements to the club.
As always, we ask that stubs and money be returned to the club as soon as possible.

Spring Raffle 2018 Update
After the January 13th shoot at Oatka and the January 27th shoot at 5-Point, Brockport is still in 3rd place with a 1 point lead over Mumford. Brent Horschel and Ken Eich shot 25's at Oatka and Tim Francisco and Gary Tveit shot 25's at 5- Point. Gary Tviet still holds the high average for
Brockport at 24.00. The league's next shoot is Sunday the 10th at
Brockport.
---
Welcome "The Well Armed Woman"
The Well-Armed Woman is a non-profit organization that educates women on firearm safety, gun care and gun handling. They are committed to empowering women to be their own self-protectors. They work to give women the knowledge and skills to safely and effectively
protect themselves should the need arise.
For more information, contact Debbie Calhoun @ 585-519-1430.

Honoring Harold Cator
Senior Club member & trap shooter Harold Cator was awarded this new jacket at a ceremonial trap night presentation. It was awarded to Harold for his many years of dedication to the betterment of not only trap, but the Club as well.
The trap shooters got together and had the jacket made for Harold to show their appreciation. Over the years Harold has donated many new guns to the club to raise money, and recently donated a new Weber grill for grilling outside for the summer on Monday trap nights. Harold, a proud Marine veteran, continually makes himself available to help and guide new trap shooters whenever possible. Thank you Harold for all you do. "Semper Fi"

Generosity is Contagious
With a gesture equal to the generosity of Harold Cator, Paul Guglielmi purchased and donated
Wireless Voice Release systems for the trap league. This was no small investment by Paul, and we'd like to thank him for his generous donation.

...And another "mention"...
To Tommy Hayes and everyone else involved with another successful Deer Pool game dinner.
About 58 people showed up to enjoy all sorts of tasty game dishes. Here are some of the dishes you missed out on if
you didn't go:
Squirrel Stew, Squirrel Cacciatore, Venison Cheeseburger Pie, Venison Sliders, Venison Italian Sausage with peppers and onions,
Venison Barbecue and Venison Swedish Meatballs. There were also a few versions of Venison Chili. Thanks to all that brought dishes to pass and helped clean up.