Conservation Club of Brockport
"More than just a gun club. We are a social and family club, and have been for over 60 years."
Welcome to the Official Conservation Club Website
The Board of Directors welcome you to our official website. Our goal is to make the Conservation Club of Brockport one of the finest organizations of it's kind in the area.

Incorporated in January, 1956, The Conservation Club of Brockport is located on eighty-eight acres at 291 LaDue Road in beautiful Brockport, NY 14420.

The purposes for which this club is organized are to conserve, restore, and manage the game, fish, and other wildlife and it's habitat; to seek to procure improved hunting and fishing for landowners and sportsman. To promote interest in hunting, shooting, archery, fishing, and to encourage and educate it's members and the general public in the principles of safety. To encourage and provide social and friendly interaction among it's members.

We are more than just a "gun club". We are a social and family club, and we have been for over 60 years.
Website built by: The Conservation Club of Brockport
---
---
---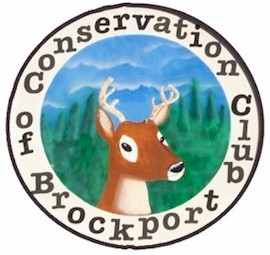 God Bless America
291 LaDue Road Brockport, New York 14420
Phone: 585.637.5961
---
2018 Membership
Applications are now being accepted. To ensure uninterrupted Range Privileges, your Membership Application must be post marked no later than January 31st 2018.
NOTE:
Regardless of whether or not any of your information has changed, when renewing your membership:

1. You must fill out a membership
application.

2. All line items on the application must be filled out completely and legibly. (Especially e-mail address)
Illegible handwriting may delay your renewal.

Membership applications are available at the club, and can also click here to download.

NOTE: For new members there will be a $25.00 Initiation Fee in addition to the annual membership fee. This is a one-time only fee.

Spring Raffle 2018 a big hit!
Our Spring Sportsmen's Raffle and Turkey dinner held March 1oth was a huge success. Turnout was a very good and we luckily had
enough turkey to feed everyone.
Our thanks again to Chef Eliot and his helpers who worked cooking the turkeys, peeling potatoes, etc. in preparation for the meal. Thank you to all the members that donated turkeys, set up the tables and chairs, bartenders, food servers, those who manned the 50/50 raffles and other ticket sales, to the cleanup crew, that washed the pots and pans. We
couldn't have pulled it off without your help.
---
Welcome "The Well Armed Woman"
The Well-Armed Woman is a non-profit organization that educates women on firearm safety, gun care and gun handling. They are committed to empowering women to be their own self-protectors. They work to give women the knowledge and skills to safely and effectively
protect themselves should the need arise.
For more information, contact Debbie Calhoun @ 585-519-1430.

Thank You
Thank you Steve Soper for fixing a drain issue in the older men's bathroom and a loose faucet set
in the kitchen.

Thank you Pam O'Brien for donating an 8ft. projector screen that will be used for hunter
education, range certification, and euchre night.

Thank you Heidi Barney for volunteering to take the lead on making sure the club's first aid
cabinets are well stocked. Heidi will monitor the supplies so the board can re-order items as
needed. Heidi even foot the bill for the initial restocking.

It's members like Steve, Pam and Heidi stepping up without being asked that sets our club apart
from others.

Thinking of volunteering?
Speaking of volunteering and stepping up, there are a few club projects that need to be done and
we're looking for volunteers to head them up and volunteers to help out.
- Paint the tire stops in the parking lot and stake them to the ground
- Stain the outdoor rifle range and the outdoor range storage shed.
- Re-shingle the outdoor range roof.
- Pressure wash the siding of the club house
There is no schedule set for these projects, we are asking that members interested in leading
and or helping with these projects reply via email to
ccobnews@gmail.com
.
We will put your name on the list and contact you.

Hunter Safety Class
For new hunters, the Conservation Club of Brockport is hosting a New York Hunter Safety
Class this month.

Thursday April 12th: 6:30-9:30PM.
Saturday April 14th: 8am - 1pm
Must be 11 years old or greater to attend.
Please bring a pen or two. Must attend both days, and a homework assignment MUST be completed. The class &
materials are FREE. Homework book/sheets are available at the Sweden Town Hall, 18 State Street Brockport.
Class Registration opened April 1st at:

www.register-ed.com/programs/165


Genesee Valley Trap League
This summer trap league starts the weekend of April 14th & 15th at Holley.
League sign-ups will continue until the 4th shoot. Shooting times run 8 am - 1pm on Saturdays, and 8am - noon on Sundays.
Shooting Fee:
$11.00 for 50 rounds , $4.00 for Jr./Sub Jr.
- Sign up: $6.00 One-time fee at the first shoot.
- Lewis: Optional $1.00
- 2 Drop score and any combination of 3
makeups or shoot aheads.
For more info contact Brent Horschel at
brent_horschel@yahoo.com
Open Trap Shooting
Monday Night Trap is open every Monday. Even
holidays. Shooting starts at 5:30 pm, and runs
until 9:00 pm. All members are welcome as well
as the general public.
The cost is $3.50 per round for members, $4.00
per round for non-members and $2 per round for
shooters under the age of 18.
Members can purchase 10-Shoot punch cards
for $30.00 at any of the Club's General meetings.
If you are interested, free trap shooting lessons
are available for beginning shooters.
**We could always use member help opening up on Monday nights, as well as stocking the houses, and scoring targets.**
Contact Brent Horschel at:

brent.horschel@gmail.com
for details, questions, or if you'd like to help out.

Important Reminder
This is a reminder that starting this month on
April 18th, The Well-Armed Woman (TWAW) will
begin using the Outdoor Range. Their group will
have exclusive use of the range from 5-9pm.
They will be meeting the 3rd Wednesday of every
month through October. The Outdoor Range will
be closed to other shooters during this time
frame.