Conservation Club of Brockport
"More than just a gun club. We are a social and family club, and have been for over 60 years."
Welcome to the Official Conservation Club Website
The Board of Directors welcome you to our official website. Our goal is to make the Conservation Club of Brockport one of the finest organizations of it's kind in the area.

Incorporated in January, 1956, The Conservation Club of Brockport is located on eighty-eight acres at 291 LaDue Road in beautiful Brockport, NY 14420.

The purposes for which this club is organized are to conserve, restore, and manage the game, fish, and other wildlife and it's habitat; to seek to procure improved hunting and fishing for landowners and sportsman. To promote interest in hunting, shooting, archery, fishing, and to encourage and educate it's members and the general public in the principles of safety. To encourage and provide social and friendly interaction among it's members.

We are more than just a "gun club". We are a social and family club, and we have been for over 60 years.
Website built by: The Conservation Club of Brockport
---
---
---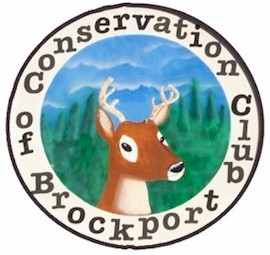 God Bless America
291 LaDue Road Brockport, New York 14420
Phone: 585.637.5961
---
2018 Membership
Applications are now being accepted. To ensure uninterrupted Range Privileges, your Membership Application must be post marked no later than January 31st 2018.
NOTE:
Regardless of whether or not any of your information has changed, when renewing your membership:

1. You must fill out a membership
application.

2. All line items on the application must be filled out completely and legibly. (Especially e-mail address)
Illegible handwriting may delay your renewal.

Membership applications are available at the club, and can also click here to download.

NOTE: For new members there will be a $25.00 Initiation Fee in addition to the annual membership fee. This is a one-time only fee.

Fall Raffle 2018
Our fall raffle is set for Saturday September 22nd from 4-7pm. Prizes are going back to guns and
some cash. The meal will consist of a chicken bbq with all the fixin's. Two $20 tickets for every member are in the mail and more will be available at the bar to sign out for you to sell.
Please support your club and buy, or sell the tickets when you receive them.

Trap Shooting Class

The club is excited to announce upcoming Trap Shooting classes for beginning shooters.
Dates are:
06/20
06/27
07/11
07/18
07/25
---
Welcome "The Well Armed Woman"
The Well-Armed Woman is a non-profit organization that educates women on firearm safety, gun care and gun handling. They are committed to empowering women to be their own self-protectors. They work to give women the knowledge and skills to safely and effectively
protect themselves should the need arise.
For more information, contact Debbie Calhoun @ 585-519-1430.

Important Reminder
This is a reminder that starting this month on
April 18th, The Well-Armed Woman (TWAW) will
begin using the Outdoor Range. Their group will
have exclusive use of the range from 5-9pm.
They will be meeting the 3rd Wednesday of every
month through October. The Outdoor Range will
be closed to other shooters during this time
frame.

Another Important Reminder
For safety reasons, the outdoor Rifle/Pistol Range will be closed while Flying Arrow's shoot setups are in process. The range will also be closed while their shoots
are taking place.

Thank You
We'd like to thank Jim Otto for updating the "Open Trap" sign that is posted at the corner of
Route 19 and LaDue Rd. It's very readable and sure draw more shooters.



Trap Shooting Class cont.

The course will be delivered in five one and a half to two hour sessions with an emphasis on basic
instruction. New shooters will be introduced to shotguns, firearms safety, trap fundamentals including trap shooting firearms, chokes, ammunition, trap shooting techniques, score keeping and trap etiquette. Trap basics that are explained and practiced include dominant eye, gun mounting, foot positions, points of aim and more. Classroom sessions are followed by range time. The majority of the five sessions are spent
breaking clay. Students will receive range
instruction from experienced club trap shooters.
Each student will receive individual attention
while on the range. The class is designed for beginners. If you currently shoot trap and are interested in improving your scores, this class is not for you. We may eventually offer a shooters "tune-up" for more experienced shooters. The class is open to 10 students. Club members
or family are being offered preference. If the
class cannot be filled within the club it will be
opened to the public. June and July dates are being finalized and will be announced within the next weeks. Until then, if you are interested, send an email to mgcyrccob@gmail.com to reserve a spot. We will let you know the dates once they are settled. There is a cost…..students must purchase two trap shooting cards to participate. The cards will cover the cost of the clays and may also be used at Monday night trap. Watch for more details……
Open Trap Shooting
Monday Night Trap is open every Monday. Even
holidays. Shooting starts at 5:30 pm, and runs
until 9:00 pm. All members are welcome as well
as the general public.
The cost is $3.50 per round for members, $4.00
per round for non-members and $2 per round for
shooters under the age of 18.
Members can purchase 10-Shoot punch cards
for $30.00 at any of the Club's General meetings.
If you are interested, free trap shooting lessons
are available for beginning shooters.
**We could always use member help opening up on Monday nights, as well as stocking the houses, and scoring targets.**
Contact Brent Horschel at:

brent.horschel@gmail.com
for details, questions, or if you'd like to help out.