Conservation Club of Brockport
"More than just a gun club. We are a social and family club, and have been for over 60 years."
Welcome to the Official Conservation Club Website
The Board of Directors welcome you to our official website. Our goal is to make the Conservation Club of Brockport one of the finest organizations of it's kind in the area.

Incorporated in January, 1956, The Conservation Club of Brockport is located on eighty-eight acres at 291 LaDue Road in beautiful Brockport, NY 14420.

The purposes for which this club is organized are to conserve, restore, and manage the game, fish, and other wildlife and it's habitat; to seek to procure improved hunting and fishing for landowners and sportsman. To promote interest in hunting, shooting, archery, fishing, and to encourage and educate it's members and the general public in the principles of safety. To encourage and provide social and friendly interaction among it's members.

We are more than just a "gun club". We are a social and family club, and we have been for over 60 years.
Website built by: The Conservation Club of Brockport
---
---
---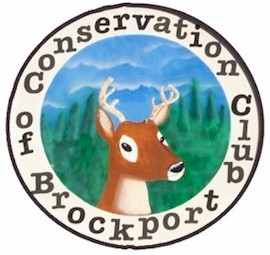 God Bless America
291 LaDue Road Brockport, New York 14420
Phone: 585.637.5961
Image courtesy of: www.freeimages.co.uk
---
2017 Membership Applications are now being accepted. Please fill out all line items on the application completely and legibly. (Especially e-mail
addresses). Illegible handwriting may delay your renewal. Membership applications are available at the club, and can also be downloaded from this site.

NEW: For new members there will be a $25.00 Initiation Fee in addition to the annual membership fee. This is a one-time only fee.

The Sporterifle Shoot-off will be held at the club on Sunday March 26th. (See Sporterifle on page
2 of the newsletter for shoot-off time and cost).
The Downstairs Range will be CLOSED starting at noon on Saturday March 25th so the Shoot-off can be set up, and will be closed Sunday March 26th.

After the February 11th shoot at Brockport and the February 18th shoot at 5-Point, Brockport has moved into 2nd place but is only 1 bird ahead of Holley. Several 24's were shot at Brockport and Gary Tveit shot 25's at both Brockport and 5- Point. Gary Tveit still holds the high average of 24.375 for Brockport shooters. The league's next shoots will be at Bergen on March 4th and Holley on March 11th.
---
The Board is starting a series of Euchre nights for a social event. Spend time with old friends, make new friends. It should be fun and entertaining for all. Please come check it out and enjoy. See the Euchre Night Rules here.

The following Dates are currently scheduled:
Feb. 25
March 18
April 22

Doors open at 6 pm.
Cards delt at 7pm
$10 per person
All moneys go back to players
Members and Guests are welcome.
Bring a snack to share please.

UPDATE:
Our second Euchre Night was held February 25th, and there was quite a turnout. 44 players signed up; filling 11 tables. There was a good selection of snacks to munch on between games, and a cash bar. Prize money is based on turnout, and all money collected at the door is used as prize money. IE: More players = More prize money. $$
Our next Euchre Night will be on Saturday March 18th. Come on out and give it a try! $10 per
player and bring a snack to pass.
"Doors Open" at 6:00, and Cards Dealt" at 7:00. To start right at 7:00, we really need all players
to arrive and get signed in by 6:30.