Conservation Club of Brockport
"More than just a gun club. We are a social and family club, and have been for over 60 years."
Welcome to the Official Conservation Club Website
The Board of Directors welcome you to our official website. Our goal is to make the Conservation Club of Brockport one of the finest organizations of it's kind in the area.

Incorporated in January, 1956, The Conservation Club of Brockport is located on eighty-eight acres at 291 LaDue Road in beautiful Brockport, NY 14420.

The purposes for which this club is organized are to conserve, restore, and manage the game, fish, and other wildlife and it's habitat; to seek to procure improved hunting and fishing for landowners and sportsman. To promote interest in hunting, shooting, archery, fishing, and to encourage and educate it's members and the general public in the principles of safety. To encourage and provide social and friendly interaction among it's members.

We are more than just a "gun club". We are a social and family club, and we have been for over 60 years.
Website built by: The Conservation Club of Brockport
---
---
---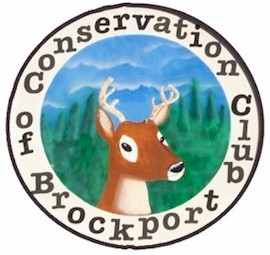 God Bless America
291 LaDue Road Brockport, New York 14420
Phone: 585.637.5961
Image courtesy of: www.freeimages.co.uk
---
2017 Membership Applications are now being accepted. Please fill out all line items on the application completely and legibly. (Especially e-mail
addresses). Illegible handwriting may delay your renewal. Membership applications are available at the club, and can also be downloaded from this site.

NEW: For new members there will be a $25.00 Initiation Fee in addition to the annual membership fee. This is a one-time only fee.

2017 Fall Raffle
Our "Fall" raffle is set for Saturday August 19th from 4-7pm. The main ticket contains only cash
prizes with three $600 drawings, four $500 drawings and three $400 drawings. A picnic style
dinner will be served along with 50/50 raffles, Lottery Basket and other table prizes. One of which is a Henry .22. Tickets, $20 each, 5 to an envelope, are available at the club for signing out. Because we had such success mailing a ticket to each member, we will be doing the same for this raffle. However, we will be mailing 2 tickets to each member. Please support your club and buy, or sell the tickets when you receive them.
---
Monday Night Trap
Monday Night Trap is open every Monday. Even on holidays. Shooting starts at 5:30 pm, and runs until 9:00 pm. All members are welcome as well as the general public.
The cost is $3.50 per round for members, $4.00 per round for non-members and $2 per round for shooters under the age of 18.
Members can purchase 10-Shoot punch cards for $30.00 at any of the Club's General meetings. If you are interested, free trap shooting lessons are available for beginning shooters.
**We could always use member help opening
up on Monday nights, as well as stocking the
houses, and scoring targets.**